Yep. Here it is my first What I ate Wednesday post!! I could NOT be more excited. I've seen lots of other bloggers do this and I'm all about stalking and doing what everyone else does, so here I am. If anyone is jumping off a bridge any time soon let me know.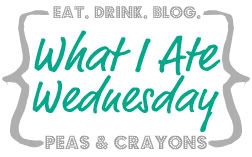 Thank you
Jenn
for hosting and for letting me stalk you! I love that she's a military wife too!
Breakfast:
Microwaved egg sandwich (which really deserves a whole post of its own) with slice of provolone cheese. I normally have Gouda but we were out. I prefer the Gouda.
Mini luna bar from my #foodiepenpal for mid morning snack. I had the lemon one. I think I ate the other one within like 5 min of opening my pen pal box. #nowillpower
Lunch:
Grapefruit Cascade ice
Small size of the perfect protein salad from QFC. I am addicted to this stuff. I think I might need an intervention soon.
Leftover broccoli slaw/salad from last nights small group. DELISH btw…
1 small avocado as an afternoon snack (in above pic)
1 grande skinny vanilla latte. Wow I really need to clean my desk.
 Dinner
Super short on time so I had to just throw something together to feed the boys. I'm almost embarrassed to show it, b/c of its lackluster apperance and even more lackluster nutritional value, but this is all about being out there with what we eat right? So I'm all in.
I present to you…tuna/broccoli casserole. I added a little cheese on mine for "flair". I know right?
And there you have it. How'd I do for my first one? I'm excited for many more!!